Join the EFEPA March 5 – 7, 2021 for a Carnival Weekend! There's something for the whole family.  This annual event will be virtual this year.
Test your luck at the Friday night Online Poker Tournament. Get in the Mardi Gras spirit at the Virtual Gala & Community Showcase Saturday evening. Then, finish the weekend off at Sunday morning Bingo with a chance to win a 4-night stay in Mexico.
View full schedule here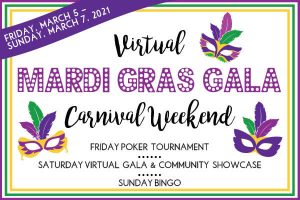 Want to attend the Virtual Gala or participate in the Carnival activities? You can fundraise your way to a ticket. Register, ask your friends and family to support your efforts, and let the good times roll!
Or, do you just want to support or attend? You can grab your tickets, Bingo cards, 50/50 raffles or check out the silent auction HERE.