This project makes difficult-to-acquire, high quality intracranial EEG data available to researchers worldwide to facilitate the development of new sensors, devices and treatments for epilepsy. Recent research shows that seizure activity does not start as an abrupt, random event, but rather as a series of electrographic changes that wax and wane before a synchronizing event triggers a clinical seizure. Unfortunately, research in this field is significantly hindered by limited access to continuous recordings from patients implanted with intracranial electrodes and spontaneously seizing animal models of epilepsy. Our goal in developing the IEEG portal is to improve the opportunity to research the mechanisms of underlying seizure generation, thereby improving epilepsy clinical care and treatment options in the future.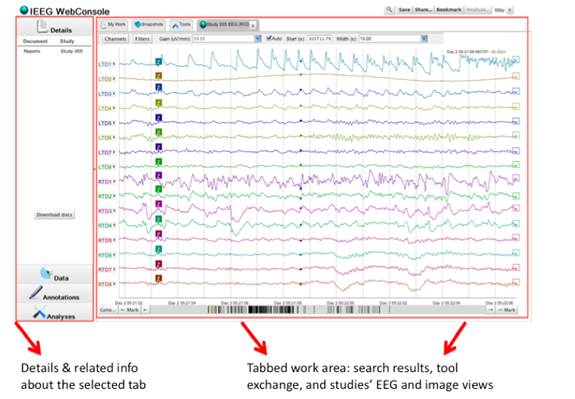 To access the Ieeg portal use the following link: ieeg.org
The IEEG Portal currently supports experiments that involve reading time series and annotations from the data sets. There is a "getting started" guide to assist you in accessing the data.
The Ieeg portal is supported by NIH funding on the following grant:
NIH 5-U24-NS 063930 The International Epilepsy Electrophysiology Database
PI: Brian Litt
Project Period: February 15, 2010 – January 31, 2015
Award: $5,795,824 (original award)
Project sites and data Contributors: University of Pennsylvania, Mayo Clinic Rochester Minnesota, Children's Hospital of Philadelphia, University of Michigan